tathra
Fruit trees, horses, alpacas, sheep and chickens happily coexist on our 30 acre family farm located at Flowerdale in regional Victoria, Australia. You are invited to enjoy a quiet and relaxing stay in the "Valley of a Thousand Hills" where you can enjoy some of the Yarra Valley's world-class wines, gourmet produce, excellent food or just sit yourself down on a comfy couch and read that good book by the woodfire. Your host is Paul who will do everything possible to make your stay relaxing, peaceful and enjoyable.
Tathra is located on 12.8 hectares (30 acres) of undulating land, with superb bush and farmland views, this stunning homestead is the product of renowned Victorian architect Robert Marshall. The 50-square homestead, located at the end of a winding 300 metre driveway is surrounded by deep verandahs and built around a vast central courtyard. To the right hand side of the imposing entrance doors is the trendy Tathra Studio. The Asian inspired courtyard comes complete with a fish-filled pond and rock fountain with gentle sounds of cascading water. The homestead is set on an acre of Sam Cox landscaped gardens filled with Australian native plants that provide safe sanctuary to a variety of wrens, finches and whipbirds. In the front paddock there are two large stands of mature Sydney blue gum trees that are home to many crimson rosellas, king parrots, eastern rosellas, magpies, cockatoos and currawongs.
The paddocks surrounding the homestead are home to our Friesian horses, Alpacas, Sebastopol geese, Indian Runner Ducks, Guinea Fowl and chickens who love to follow you around the stables, barn and gardens. Our two friendly dogs Lewis (a Siberian Samoyed) and Muppet (a Border Collie) are very relaxed and always on the lookout for a friendly pat or rub.
There is an abundance of Australian wildlife to view and photograph when you stay at Tathra and includes kangaroos, swamp wallabies, wombats, micro bats, Samba deer and wedge-tailed eagles.
Guests staying at either Tathra Studio, Tathra Cottage or Tathra Lodge are most welcome to join your hostson the Western Verandah to enjoy wine and cheese while watching the magnificent setting sun.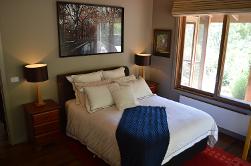 Tathra Lodge
Tathra Lodge comprises one unusedwing of the Tathra Homestead with its own separate entrance . It has all the luxuries of an upmarket hotel room with views to the gardens to the East and the "Three Sisters" to the North.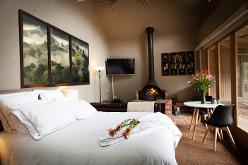 Tathra studio
Tathra Studio is a fully self contained studio apartment. It has all the modern conveniences, including a chef's kitchen, with access to the homestead's relaxing and sun-filled courtyard.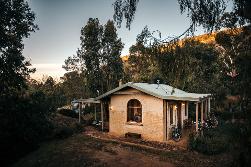 tathra cottage
Tathra Cottage is a dog-friendly, free standing mud brick cottage located high on its own half-acrehill with landscaped gardens and sweeping views across several Flowerdale valleys.